Chicken Soup - The Ultimate Comfort Food
Many of us have had chicken soup when we were sick. In fact, chances are that a parent or grandparent provided us with chicken soup when we were suffering from any range of maladies including colds, flu or even an upset stomach. For many, chicken soup has remained the ultimate in comfort foods -- it almost always makes us feel better.
Most chicken soup is very good for us, provided that we are not loading it with salt and other not so nutritious additives. Chicken soup can help warm a child who has been playing in the snow, be a great after school snack after a walk home in cold weather or be a simple, inexpensive and hearty meal.
Making chicken soup from scratch is not hard to do and it is very versatile. There are many variations for chicken soup, this recipe is for chicken noodle soup. Chicken noodle soup can be very hearty if made with egg noodles or other types of pasta if desired.
Step 1 - Soup base
Making your own chicken soup stock from scratch is not difficult to do. To make your chicken soup base, pour two quarts of water into a pot and add the chicken. You may use a whole chicken or chicken parts. It is recommended that the skin be removed, however, you may elect to do this after cooking. 2 lbs of chicken parts (or whole chicken) should be boiled for approximately 45 minutes over medium heat.
Step 2 - Preparing meat for soup
Once you have boiled the chicken, remove from broth and allow to sit until cool. In the meantime, place the chicken broth into a refrigerator safe bowl (or leave in pan) and place in the refrigerator. Allow the broth to get cold enough to skim the fat from the top of the broth. After the chicken has thoroughly cooled, remove skin (if it has been left on) and then remove meat from all the bones and discard bones and skin.
Step 3 - Soup basics
Combine the chicken as well as all of the other ingredients (except egg noodles) into a large pot. Turn heat to low and allow to simmer for two hours until carrots are tender. It is important to note that the potatoes may be very soft. They are supposed to be used more for thickening the broth and adding flavor so do not be concerned about this.
Step 4 - Adding noodles
Return the soup to a full boil and add one pound of egg noodles. Cook stirring as needed for approximately eight minutes until noodles are tender. Serve piping hot as a side dish or a main dish with salad and bread or crackers.
Ingredients needed
2 lbs. chicken parts (skinned)
1 lb. wide egg noodles
1/2 lb. sliced carrots (approx 1 1/2 cups)
3 stalks of celery sliced (about 1/2 cup)
2 large potatoes (diced - about 3/4 cup)
1 large onion (2/3 of a cup)
2 medium Bay Leaves
1/2 tsp. black pepper
1/2 tsp. Italian seasoning
1/2 tsp. Sage
1/2 tsp. Thyme
1/2 tsp. garlic powder
2 quarts of water
Tips and tricks
You may elect to use all white meat or dark meat if you prefer
Whole roaster may be substituted for parts
Skin may be removed after cooking
Fat may be removed by refrigerating broth after cooking
Simple soup thickening
If you like your soup a bit thicker, here is an easy option:
Ingredients:
2 cups cold water
2 tablespoons cornstarch
--Optional items
1 teaspoon Gravy Master (for darkening)
White or black pepper (to taste)
Salt (to taste)
Process:
Carefully blend cold water (or substituted broth) with cornstarch. Blend completely until the mixture is completely lump free. Add salt, pepper and Gravy Master if desired. Mix thoroughly until the entire mixture is a uniform color.
For best results, make sure the soup is at (or near) a rolling boil. This will ensure a better blending of the mixture. Slowly pour the cold cornstarch mixture into the pot of boiling soup. Caution: Do this slowly and stir constantly to avoid any lumps! Once the mixture is mixed into the soup turn the heat down to medium.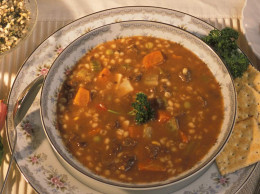 Beef vegetable soup Simple to Make - Filling and Perfect for Winter
Beef vegetable soup can be simple to make, quick and is very filling. It is the perfect way to warm up after shoveling snow, walking in the woods and makes a great afternoon snack.
Whether you are looking for something hearty to serve for dinner or searching for that perfect winter warm up dish, beef vegetable soup fits the bill. Beef vegetable soup can be made in as little as one hour with this recipe! Serve your entire family a hearty beef vegetable soup for dinner any night with thick slabs of homemade bread or rolls.
Preparation instructions
Step 1
In a large dutch oven, heat olive oil until hot. Add beef. Allow beef to brown then add onion, garlic and celery. Stirring constantly heat until onions are transparent.
Step 2
Add chopped tomatoes, Italian seasoning, Thyme, salt, pepper and bullion cubes to the mixture and stir until tomatoes are warmed thoroughly and bullion has dissolved completely.
Step 3
Add the water to the current mixture, increase heat. Bring to a rapid boil and add the barley stirring constantly until boiling resumes. Add Bay Leaves. Reduce heat and cover. Simmer for 45 minutes.
Step 4
After 45 minutes, remove the cover and stir. Add the entire package of mixed vegetables. Return cover and simmer for an additional 15 minutes or until the vegetables are as tender as desired.
Remove Bay Leaves and serve piping hot.
Ingredients Needed
1 1/2 lbs stew beef (or beef tips)
1 Tablespoon olive oil
2 large onions (1 cup minced)
3 stalks celery (1 cup chopped)
Clove Garlic (1 1/2 TBS minced)
4 large tomatoes (1 cup chopped)
8 cups of water
4 beef bullion cubes
1 - 2 lb. bag mixed vegetables
1 cup barley
2 bay leaves
1 teaspoon Italian seasoning
1 tablespoon thyme
Tips & Warnings
May be prepared in a crock pot if desired
Barley can be soaked to speed cooking
Fresh vegetables can be substituted for frozen
Spices can be altered to suit taste
Serve with Texas Toast for a real treat
May substitute beef broth instead of bullion - replace water with broth