Things Needed
Turkey to feed everyone
Homemade stuffing
Mashed Potatoes
Squash (and/or other vegetables)
Perfect homemade turkey gravy
Bread or rolls
Holiday dinners all over the United States generally means that families will be gathering and sharing a big meal. In some families there are long standing traditions about what is served for 
Thanksgiving or Christmas
 dinner. This year, some will be starting their own long lasting dinner traditions.
Today, you can start planning your Thanksgiving or Christmas dinner menu and compiling recipes so that you will be ready. Make a list today to ensure that your 
Thanksgiving or Christmas
 dinner menu is ready to prepare and that you have all of the supplies on hand that will be needed for a perfect 
Thanksgiving or Christmas
 dinner.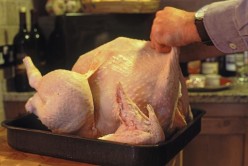 Selecting your turkey
Creative Homemaking
 suggests that you allow 3/4 of a pound of turkey (for turkeys over 12 pounds) per person. For turkey's under 12 pounds, you should allow 1 pound of turkey per person. This means that you need to purchase the right size turkey for the number of people you anticipate serving.

Make sure you observe the following:
Be sure to follow instructions for safe poultry handling
Wash your hands and any surfaces the(raw) poultry touch with hot, soapy water
Do not stuff your turkey until you are going to put it in the oven
Refrigerate leftovers promptly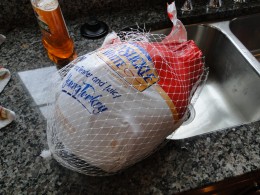 Thawing and preparing your turkey
Depending on the size of your turkey, thawing could take as many as six (6) days in the refrigerator. The 
USDA suggests thawing your turkey
 in the refrigerator versus cold water soaking. Turkeys that are between 20 and 24 pounds may need five (5) or six (6) days to thaw in the refrigerator versus 10 - 12 hours in cold water.
Cooking your turkey means that the minimum internal temperature should reach 165 °F. Turkey should be cooked for approximately five hours for a 20 - 25 pound turkey. Cooking your turkey from a frozen state (which may be done) will increase cooking time by approximately 50%.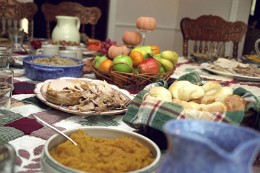 Stuffing and other side dishes
While your turkey is roasting you may prepare your stuffing and other side dishes. If you have stuffed your turkey you may still need to prepare vegetables including mashed potatoes, squash or turnip (or both) and other side dishes.
If any of your side dishes are ready before your turkey has finished make sure they are tightly covered and removed from the heat. You may re-heat them in the microwave or the oven when the turkey has finished cooking.
Things Needed
Fresh or Frozen Turkey (thawed)
1 stick of butter
Stuffing if desired
Deep roasting pan
Cooking spray
Aluminum foil
Meat Thermometer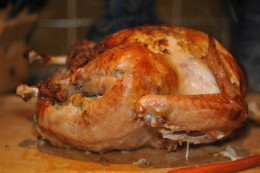 How to cook a perfect turkey
A whole turkey should be thoroughly cleaned in preparation for cooking. Remove all insides (save for gravy if desired) in cold water. The water should run clear. Be certain to thoroughly clean all cavities and check for possible feathers while cleaning. Once the turkey is clear, pat dry and place in deep roasting pan that has been lightly sprayed with cooking spray.
For a perfect turkey you need to prepare it properly for cooking. Force the skin on each breast back slightly. Take the stick of butter and slice it into four (4) long pieces that are of approximately equal size. Force the butter up under the breast skin. If desired, you may also rub butter all over the skin of the turkey for added flavor and browning.
If you prefer to have your turkey stuffed, prepare your favorite stuffing recipe and stuff the bird. After stuffing, place and end slice of bread into the cavity to hold the stuffing in. Truss legs to hold in place.
Once you have prepared the turkey for cooking, pre-heat oven to 350 degrees (F). Cover loosely with aluminum foil that has been sprayed with cooking spray. Turkey should be cooked approximately 25 minutes per pound for stuffed turkey and unstuffed turkey should be cooked for approximately 20 minutes per pound.
About 30 minutes before you estimate that your turkey should be cooked, remove the aluminum foil to allow the skin to brown. If these directions are followed, your turkey should not require any basting during cooking. Allow turkey to rest approximately 20 minutes after removing from the oven; prior to slicing.